The Wheel World
Claire's Travel Blog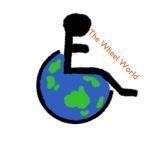 The Wheel World – ListenABLE PODCAST
Hello fellow travellers,
If you're a podcast listener, such as I am, you may not be familiar with tennis and Olympic legend, Dylan Alcott's new disability-related podcast, ListenABLE.
Listenable has been great for me personally. As someone who works in the disability industry, I'm always keen to learn more about other disabilities.
The podcast is hosted by Dylan and his able-bodied buddy Angus O'Loughlin, who both speak with amazing Aussies who have different disabilities and their experiences living with it. They ask insightful questions, and their aim is to break down disability stigmas; changing the way its viewers perceive disabilities. Each of their guests have different disabilities, such as Australian author Carly Findlay, who has a rare genetic disorder that affects her skin, to hilarious stand-up comedian Oliver Hunter, who is in a wheelchair. Prue Stevenson is on the autism spectrum and Ben Pettingill, who works as a motivational speaker after losing his sight as a teenager. Plus, many more guests.
I couldn't recommend this podcast more. It is very insightful, funny and also educational. It's so motivating listening to stories about how people have learnt to embrace their disabilities, whether born with their disability, or have developed it during their lives. It has always been interesting for me to learn more about different disabilities and learn about how people have overcome the obstacles that can come from having a disability. The best part I think, is being able to relate to so many of the stories and having a laugh thinking "yeah, that has happened to me as well.". It's a reminder to me personally, that I'm not alone, and that there are heaps of amazing Aussies out there with disabilities, absolutely smashing goals.
New episodes air every second Monday.
You can listen (or watch it on YouTube with closed captions) to it, anywhere you listen to your podcasts, Podcast One, Spotify, Apple etc.
Claire 
Discovery Holidays
Travel Team