The Wheel World
Claire's Travel Blog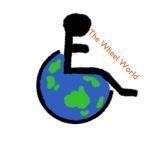 Hello fellow travellers,
My name is Claire, I'm from Hobart, Tasmania and I, like you, am an avid traveller who also happens to use an electric wheelchair. I work for Discovery Holidays as a Accessible Itinerary Researcher and I do a lot of the holiday planning that I hope many of you have enjoyed.
I also like to blog about my travel stories, give advice and am here to share some of my useful travel and holidaying tips. I'm on Instagram too, follow me by clicking the orange button above.
First of all, having a wheelchair, or disability doesn't mean travelling has to be difficult, the main point of travelling is to have fun.  Travelling with a wheelchair is obviously more challenging, however you shouldn't let your wheelchair, or your mobility stop you from travelling and seeing the big wide world; just as you don't let it stop you from living your best life in your own environment. Travelling can seem daunting and overwhelming but the experiences and the memories you'll have, far outweigh the fear of actually getting out there.
I look forward to starting this blog and sharing with you all my travel experiences; both past and future journeys. I hope they help you with your travels too and hear all about them.
Claire 
Discovery Holidays
Travel Team (Hobart) 
See more here : https://discoveryholidays.com.au/claires-blog/