The Wheel World
Claire's Travel Blog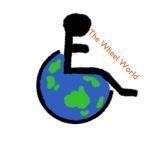 The Wheel World – London Adventures
Hello fellow travellers,
I visited London back in 2014 and it was one of my favourite places I visited that year. If you're thinking of going to London and you or your travel companion is in a wheelchair then I highly recommend visiting London. I found London to be very wheelchair friendly, with all the places I visited, accommodating to wheelchairs and the disabled amazingly.
Confession time: when I travel, I'm secretly one of those people, who loves to go to the tourist hotspots. It's for two reasons, firstly: I can say "I've been there." When pointing out the Buckingham Palace, or Tower Bridge. And secondly, I know that chances are, because of the landmarks high profile, it'll most likely be wheelchair accessible. I absolutely HATE going anywhere, especially in a foreign place, only to find out it's not accessible. I always do a huge amount of research before going anywhere, but sometimes I have been led astray by false and ambitious sounding "access". But I definitely didn't find that in London, it was immensely accessible – a big thanks to the Paralympic Games, that had ended a few months prior to my arrival. I've learnt that it totally helps just to holiday, based solely around the Olympics.
I also found in London that being in a wheelchair, I somehow gained a superpower, whereby I could "queue skip" wherever I was. Besides the awkward side glances of people who had clearly been waiting in said queue for probably hours, wherever I showed, up, a tourist operator magically moved me from the queue and moved me to the front of the line. This is when I find that having a disability pays off.
I stayed in Kensington while in London, which is very central to everything you need. I was in walking distance to Kensington Gardens, which is in central Kensington and home to the famous Princess Diana's Memorial. Kensington is a very pretty area and very easy to get around. Public transport is very easy to navigate as well, and I did enjoy that ALL TAXIS were wheelchair accessible. I didn't have to order a maxi taxi; I could jump into any cab that was available. Very inclusive.
Some of the places I visited while I was in London was: Buckingham Palace, Madame Tussauds, The London Eye, The England vs Australian Ashes Series, London Hop-On Hop-Off Bus Tour and The Natural History Museum, just to name a few.
Claire 
Discovery Holidays
Travel Team